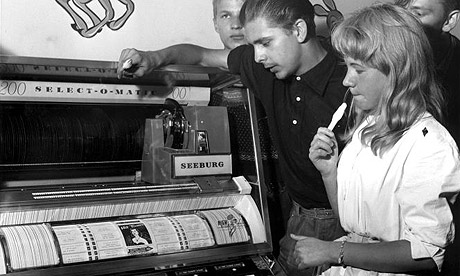 I always figured that the main function of a jukebox was hearing the perfect tune to which to shake my ample white-girl booty.
But recently, I've had a couple of other experiences I've relished with the jukebox. One night a couple of months back, a guy friend and I are shooting the shit over a few beers. I grabbed a couple of bucks out of my wallet to pick some songs. As I'm flipping through the selections, I suddenly feel my guy friend's hips against my ass and his mouth next to my ear.
"Don't pick anything that sucks," he whispered into my ear, then took off for the bathroom as I tried to will my knees back into a solid state.
A few weeks later, I'm out with a guy I think might be into me. We were chatting at the bar, knees touching as we talked. After listening to the crap selections of the other patrons, he handed me a few bucks and sent me over to the jukebox. Suddenly, I feel his hand on the small of my back, sliding his arm around my waist, and asked how it was going. It was the first time I know that he really wanted me.
So thank you, jukebox, for giving boys a convenient way to grope me.